---
June 7, 2023 Wednesday
Big Band & Cool Summer Salads
6:00PM – Cool Summer Salads Potluck Begins
6:30PM – Big Band and Prayer Meeting Begins
---
June 14, 2023 Wednesday
6:00PM – Bring-Your-Own-Supper
6:30PM – Prayer Meeting
Summer Mid-Week Service begins
This summer, we will be holding our weekly mid-week services in person on Wednesday nights. We're hoping this will be a wonderful time of prayer, learning, and fellowship as we come back together for weekly gatherings!
---
June 17, July 15, August 19 (Saturday)
Super Saturday Adventures
We hope you will join us for Super Saturday Adventures on June 17th, July 15th, and August 19th! The FUN starts at 10:00AM. On June 17th, we will have a cookout afterwards for all participants and their families. Super Saturday Adventures is a free event, but we do ask that you pre-register. Registration for the June 17th event is now open.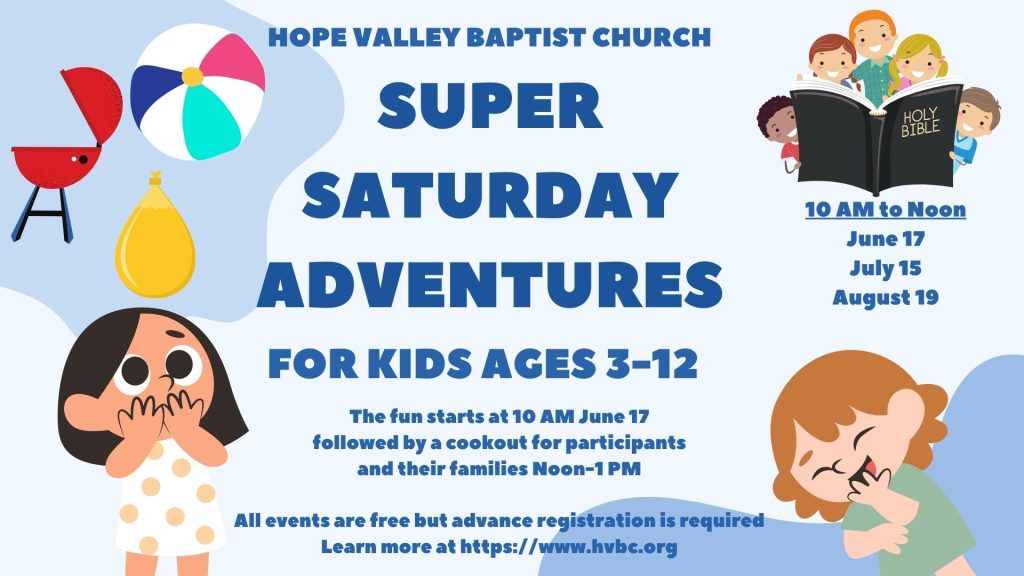 ---